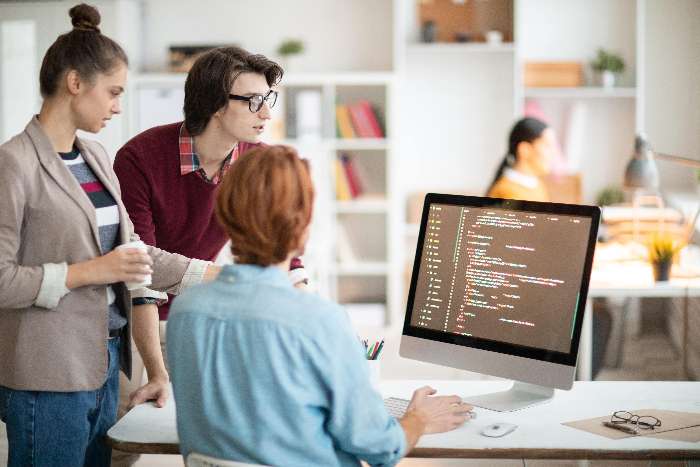 9 Tips to Find the Custom Website Development Services
A stunning website is not only aesthetically pleasing, it's functional and user-friendly. A poor design will leave your customers frustrated with sluggish navigation or difficulty using an interactive feature on the site. By ensuring that people can easily navigate through all of its pages, visitors will find what they are looking for more quickly. Which means a higher return rate. In this article I am going to share few tips with the help of you can find quality custom website development services.
1. First of All Set Your Budget
If you haven't thought about how much you're willing to spend on web designing companies, this should be your first step when looking for a website designer. Websites come in all shapes and sizes and there's no such thing as industry-standard pricing so it's important that before starting the search process, know what level of work is acceptable. Once you've established a tentative budget, then also consider where the best place might be for designing an appealing site just make sure someone meets your needs.
2. Identify What Kind of Web Designer You Need?
There are many web designing companies in the world, but choosing the best one is tricky. One of the most saturated industries right now is web design. For you as a business owner or marketer, this means that there are many designers who can help create your project to be uniquely yours and fit all of your needs perfectly.
Given how competitive it has been in recent years between different companies vying for positions on search engines like Google. I would argue that one thing people have had success with due to their competition is pushing themselves even harder than they once did before. If they want an edge over others during these lean times where online presence becomes so important. Not just through SEO but also by making sure we provide excellent customer service. Make our pricing plans understandable enough for customers looking at them.
3. Look For Portfolio
It's important to see if the web design company you're looking for has experience with your industry because it can offer insight into how they might create designs for your own. If you have a lot of questions about what their process looks like or pricing, then seeing one of their past projects is an excellent way to get some answers. When choosing between potential companies, take note that not all designers are good at creating websites in every niche and different industries need various types and styles of website layouts that work best depending on who will be visiting them most often so consider carefully before picking someone whose style may not fit the specific needs you've got.
4. Read Client's Reviews
When you need a new website, it can be hard to know where to start. That's why more and more people are turning towards reviews of websites. From their clients or other sources like testimonials for companies that offer web design services. These provide insight into the quality service offered by this company. As well as what they do on behalf of their clientele – giving you an idea about whether they will work with your needs in mind when building your site, too.
5. Check the Prices
Every country has a different price market. For example, if you search web development oman then you can find the low rates as compared to the US market. But still, if you're on a budget, finding the right web design company can be difficult. Who would agree to work with your limited funds? The cost of building a website varies depending on what is included in the design and how complex it needs to be for your purposes. Someone who only requires basic features might pay significantly less. Someone looking for an extensive site with multimedia components such as videos or photos/images galore.
6. Check If There Are Any Additional Services
Your website is more than just a place for people to find you. When your campaign needs SEO, copywriting or other services such as hosting and domain name registration, it can be difficult to manage all of these different aspects at once. The best way to keep everything running smoothly? Find a company that offers web design and complimentary services. so you don't have the hassle of going from site to site looking for what you need.
7. Ask Your Queries without Hesitation
Web design is an intricate and difficult subject to understand if you're not involved in the industry. The best agencies will be happy to sit down with you. They explain what they do. How they work for your company, and why this option would benefit them as well.
If someone starts talking about things that are unfamiliar or making a lot of promises without explaining anything more thoroughly first – beware!. This could mean there's some fishy business going on behind the curtains. Which render their work useless in your case so proceed with caution from here forward.
8. Ask for References
Would you hire a web designer who couldn't name any past clients? You should be immediately wary of any prospect in the same field. s they can relate directly to your needs and provide inside information on previous projects. Ideally, ask for references within the industry that best matches what type of work you want to be done; this will allow them to give valuable insight into an agency or freelancer's past performance.
9. Look for Different Options
Don't let a potential agency or freelancer pressure you into signing a contract right away. This is your money and website, after all. There's no reason to feel bad about thoroughly exploring all of your design options before making any big decisions. Spend time looking for the perfect designer. It will be worth every minute as this process ensures that you find someone who wants what you want in terms of style and vision!
Conclusion
In conclusion, all we can say is to take your time with it. Consider, shortlist, and make a decision before contacting the best custom website developers. Turnkey solutions are important because they eliminate the need to worry about building a website or managing the initial project stage. If you want to be noticed, you need to keep your website up to date. Wishing you the best.